Episodes
Tuesday Jun 23, 2020
Tuesday Jun 23, 2020
Our attention may be consumed by the coronavirus crisis, but the very real threat of climate change hasn't gone anywhere. Although the world is fast approaching potentially irreversible climate change tipping points, swift action to tackle refrigerant greenhouse gases could go a long way to help.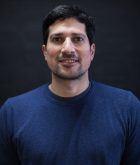 (Left to right)
Paul Newman – Press and Communications Officer,
Fionnuala Walravens - Senior Climate Campaigner,
Tim Grabiel – Senior Lawyer.